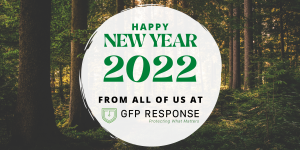 Happy New Year from all of us at GFP. We just want to take a moment to thank you for your hard work and dedication, and tell you how much we appreciate your professionalism throughout theses unprecedented times. The pandemic continues to introduce new challenges, as it has throughout the last two years, and we have forged ahead through the changes and uncertainty and will continue to do so in the 2022 season.
Moving towards a New Year means looking forward towards a new fire season. Part of doing so means being conscious of our role in helping to prevent the spread of COVID-19. As many of you travel and meet with friends and family this holiday season, we encourage you to review and follow the updated CDC Guidance on preventative measures during travel which are outlined by the federal, state and local health authorities.
Again, we thank you for your hard work and dedication, stay healthy and safe, and we will see you in February!